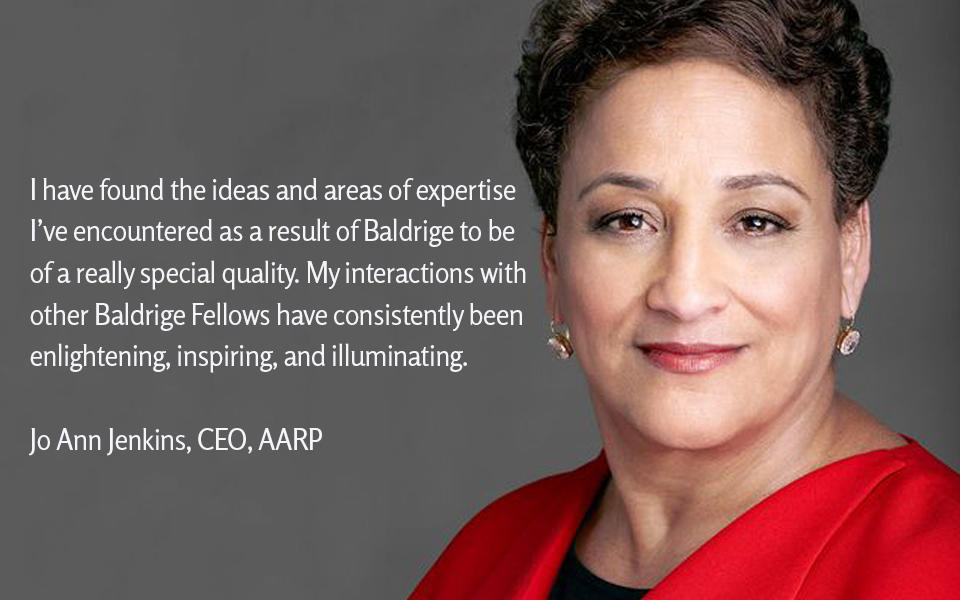 Article originally posted on
Blogrige
by Christine Schaefer
Jo Ann Jenkins, CEO of AARP since 2014, was recognized by Fortune magazine this year as one of the world's greatest leaders. Undoubtedly, members of her cohort of Baldrige Executive Fellows who gained new insights from learning from and with Jenkins were pleased for her (and not surprised). As Jenkins shared recently, "My interactions with other Baldrige Fellows have consistently been enlightening, inspiring, and illuminating."
Jenkins also graciously answered the following questions recently about leading an organization for excellence.
Congratulations on being honored among the best leaders worldwide for 2019. What experiences have strengthened your leadership skills?
I'm always on the lookout for learning experiences. I'm afforded an outstanding experience to learn, on an ongoing basis, from working closely with the network of chapters that AARP has built over the last 60 years.
AARP operates chapters in all 50 U.S. states, the District of Columbia, Puerto Rico, and the U.S. Virgin Islands. A network of that size and scale provides a powerful resource for staying directly connected with what's happening on the ground in people's communities. Tuning into that feedback on a consistent basis helps us to sharpen our relevance and value to the everyday lives of people age 50-plus and their families.
As you know, leadership is the first of seven categories of organizational performance of the Baldrige Excellence Framework; the framework's self-assessment questions ask senior leaders how (1) they set their organization's vision and values, (2) promote legal and ethical behavior, (3) communicate, (4) create an environment for success, and (5) create a focus on action. Would you please comment on the importance of these dimensions of performing as a senior leader in a U.S. organization today?
They're all equally important, but certainly the fifth one—create a focus on action–is especially pertinent to our work at AARP.
An example is the leadership role that AARP—as a fierce defender in the arena of health care for people age 50-plus and their families—is currently taking in the fight to drive lower prescription drug costs. Americans pay the highest prices in the world for prescription medicines, and it's time to do something about making them more affordable for more people. Inevitably, that effort starts at the local and state level. As of this moment, 16 states have recently signed into effect 27 new laws that take concrete steps to drive down prescription drug prices—with more new laws expected soon.
"The principles of the Baldrige Criteria are a vital tool…"
After you became a Baldrige Executive Fellow in 2012, you used the Criteria for Performance Excellence (part of the Baldrige framework) to benefit your organization's improvement efforts, as described in our previous blog interview. For example, you stated then, "With the Baldrige Criteria as our guide, we have implemented a customer feedback loop for all of our programs and for the volunteers that serve in our programs. It is providing us with actionable feedback that allows us to excel at living up to our mission." Would you please share an update on your organization's customer listening practices or other improvements toward excellence?
We're very proud of AARP's Voice of the Customer program. In the same way that being an effective communicator starts with being a good listener, we also know that providing outstanding customer service is founded not just on listening to what people tell you, but also in acting on that feedback to implement improvements.
Our Voice of the Customer program enables us to take in what people are saying about AARP on social media, on blogs or other media sources, via our call center, in email, or even in person at one of our many local events and to analyze that information on a daily basis.
Using a real-time customer-sentiment analysis tool, we are able to take care of requests, anticipate challenges, and improve our level of service to people on an ongoing basis. A lot of organizations are heavily focused on what they want to tell people. Via our Voice of the Customer program, we have found that really listening to what people want to tell you (and acting on it) is even more valuable.
You've evidently inspired others to also participate in the Baldrige Performance Excellence Program's one-year executive leadership program in recent years. How do you view the value of a Baldrige Fellow's learning from peers (and senior leaders of Baldrige Award-winning organizations) from different sectors and industries?
Organizations around the world face many of the same opportunities and challenges regardless of their industry, and I always find it interesting to hear and learn from how others have approached something similar to what AARP might be facing.
As a CEO, I'm afforded lots of opportunities to network, and I always go into them with an open mind. But I have found the ideas and areas of expertise I've encountered as a result of Baldrige to be of a really special quality. My interactions with other Baldrige Fellows have consistently been enlightening, inspiring, and illuminating.
Would you please share a tip or insight on leading an organization to high performance?
I think the way forward for any nonprofit is to spend less time on administration and more time on advancing your mission. Of course, a certain amount of internal processes are inevitable and even necessary, but staying focused on core elements matters most.
Why does your organization exist?
What are your core competencies?
Who are you helping?
What do they need?
How can you help provide it?
The principles of the Baldrige Criteria are a vital tool in answering—and acting upon—those questions!
---
Receive Our Newsletter
Keep informed on best practice research and business improvement events from around
the globe - be the first to read our Best Practice Reports
---