By Dr. Almas Tazein, BPIR.com Limited, COER
Continuing with its legacy of fostering excellence and imbibing a culture of organisational learning within the Government of Dubai, the Dubai Government Excellence Program (DGEP) in co-operation with the Center for Organizational Excellence Research (COER), New Zealand completed the 2nd Cycle of the Dubai We Learn Excellence Makers Program in 2018. Back then, 11 Dubai Government entities embarked on a journey towards newer horizons, which enabled them to be more resilient and agile in experimenting with and adopting efficacious strategies and best practices from around the world.
Today, DGEP and COER are delighted to announce the release of their 2nd book together describing the 11 success stories and describing how each project team used the TRADE Benchmarking Methodology. The book is titled, "Achieving Performance Excellence Through Benchmarking and Organisational Learning"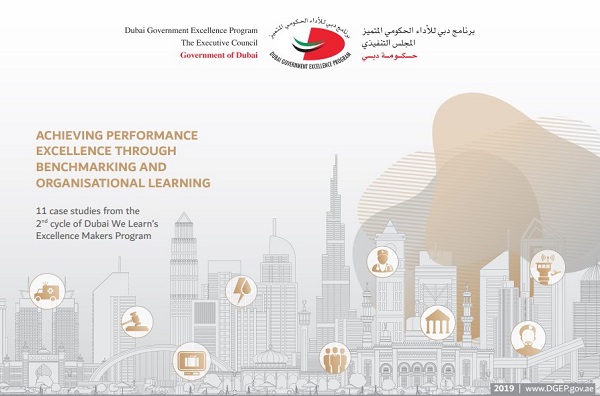 Today, is the soft launch of the electronic version of the book. The official launch of the book will stimulatingly coincide with the Final Knowledge Sharing Summit for the 3rd Cycle of Dubai We Learn 2019 that will be held on 22 December 2019. The formal launch will be attended by all the Dubai Government teams, officials, sponsors and key stakeholders in the honorable attendance of the Secretary General of The Executive Council, Dubai.
Where achieving 3-4 Stars and reaching TRADE Benchmarking Proficiency is a challenging task within a one-year timeframe, the book summarizes the secrets of how each of the 11 teams managed to reach up to the 3 to 7-Stars of governance par excellence. The book epitomizes an idealized step-wise implementation of TRADE methodology, depicting structure, purpose and performance.
The book unravels the 2nd cycle of Dubai We Learn's Excellence Makers Program from a knowledge-sharing perspective, where the reader will be exposed to a plethora of information in the field of public service and systematic benchmarking system. In order to spark a desire to learn from the challenges faced by the Dubai government entities, to showcase the principles and best practices that drove positive organisational change, to inculcate creativity and innovation within the teams, and to encourage the emulation of their success stories, the book speaks of the:
Key Achievements of each of the 11 benchmarking project teams
Project benefits classified into financial, customer/citizen, human resource, and process benefits
Lessons learnt and highlights from the TRADE Benchmarking Methodology
Importance of Leadership, Teamwork, and Change Management
Key factors integral to the success of the benchmarking projects during each of the T-R-A-D-E Stages.
This book will make you think, it will make you question the status quo, and for sure, it will inspire you.
Click here to download the book.
Presentation video clips from each of the benchmarking projects are available in BPIR.com's Award Winner Reports section. Join BPIR.com to access the reports and many other features.
For more information on Dubai We Learn contact:
Dr. Zeyad Mohammad El Kahlout, Senior Quality and Excellence Advisor, Dubai Government Excellence Program (DGEP). Email: Zeyad.ElKahlout@tec.gov.ae



Or contact Dr Robin Mann to learn more about the TRADE Best Practice Benchmarking Methodology, r.s.mann@massey.ac.nz
---
Receive Our Newsletter
Keep informed on best practice research and business improvement events from around
the globe - be the first to read our Best Practice Reports
---