Dubai We Learn benchmarking teams at the 2nd Knowledge Sharing Summit
Article contributed by Dr. Almas Tazein, BPIR.com Limited, COER
As I was giving a fleeting glance to the many fascinating books at one of the stimulating bookstores at the Dubai International Airport Departures Terminal, the title of a book caught my attention, 'MY VISION – Challenges in the Race for Excellence', by Mohammed bin Rashid Al Maktoum. Considering the fact that I was typically running short of time to board my flight, I had to reluctantly place the book back to its original position, but with an awe mixed with curiosity lurking within me that said, "His Highness – The Ruler of one of the most loved and influential cities in the world is explicitly acknowledging the tests and trials of running the multifaceted and magnificent city of Dubai!' That's striking!"
My journey from where I started research writing for some of the Dubai We Learn projects, to going back with the fabulous and fulfilling experience at the Dubai Government Excellence Program's 2nd Knowledge Sharing Summit, 2019 now astonishingly seemed to have taken a full circle! I now envisage how the day-to-day governance of Dubai resonates with its topmost leadership – the Ruler's drive for excellence. 'Dubai We Learn – Excellence Makers Program' is homogenous with his broader vision to make Dubai the happiest and smartest city in the world – for the Dubai population and the millions of its annual visitors that it embraces.
Initiatives like the Dubai Government Excellence Program (DGEP) constructively nudges the government authorities to question the status quo and not become complacent. The program also helps to shatter the far-sighted challenges that are destined to arise in this massive responsibility called public governance.
On Wednesday 31 July 2019, the Jumeirah Emirates Towers Hotel, Dubai, United Arab Emirates witnessed one of the most intellectually sophisticated events in the field of Business Excellence, Best Practices and Benchmarking – the 'DUBAI WE LEARN – EXCELLENCE MAKERS PROGRAM 2nd KNOWLEDGE SHARING SUMMIT', organized by The Executive Council and DGEP.
The Godolphin Ballroom was exuberant, up and lively with the very many erudite professionals and astute officials representing the various government authorities of the Government of Dubai.
Maha Al Suwaidi, Project Manager, Dubai Government Excellence Program, Setting the scene for a day of sharing
The entire arena seemed like a wonderland for anyone with a hunger to know Best Practices in the specialized field of public administration. For me, the experience was not just enlightening, it was humbling as well. Afterall, it takes humility and a strength of organisational personality that, in spite of already being accomplished in the field of governance and acute decision making for years and decades, the team members were inquisitive to learn and explore like a nascent intern.
The Center for Organisational Excellence Research (COER), New Zealand, has been orchestrating the learning, knowledge gathering and wise execution of the Dubai We Learn initiatives (now in their 3rd year cycle) in tandem with DGEP. COER amiably assist the teams to use the TRADE Best Practice Benchmarking Methodology to find and implement best practices and empowers the teams to reach a 7-Star level of excellence that assures long-term sustainability and future relevance.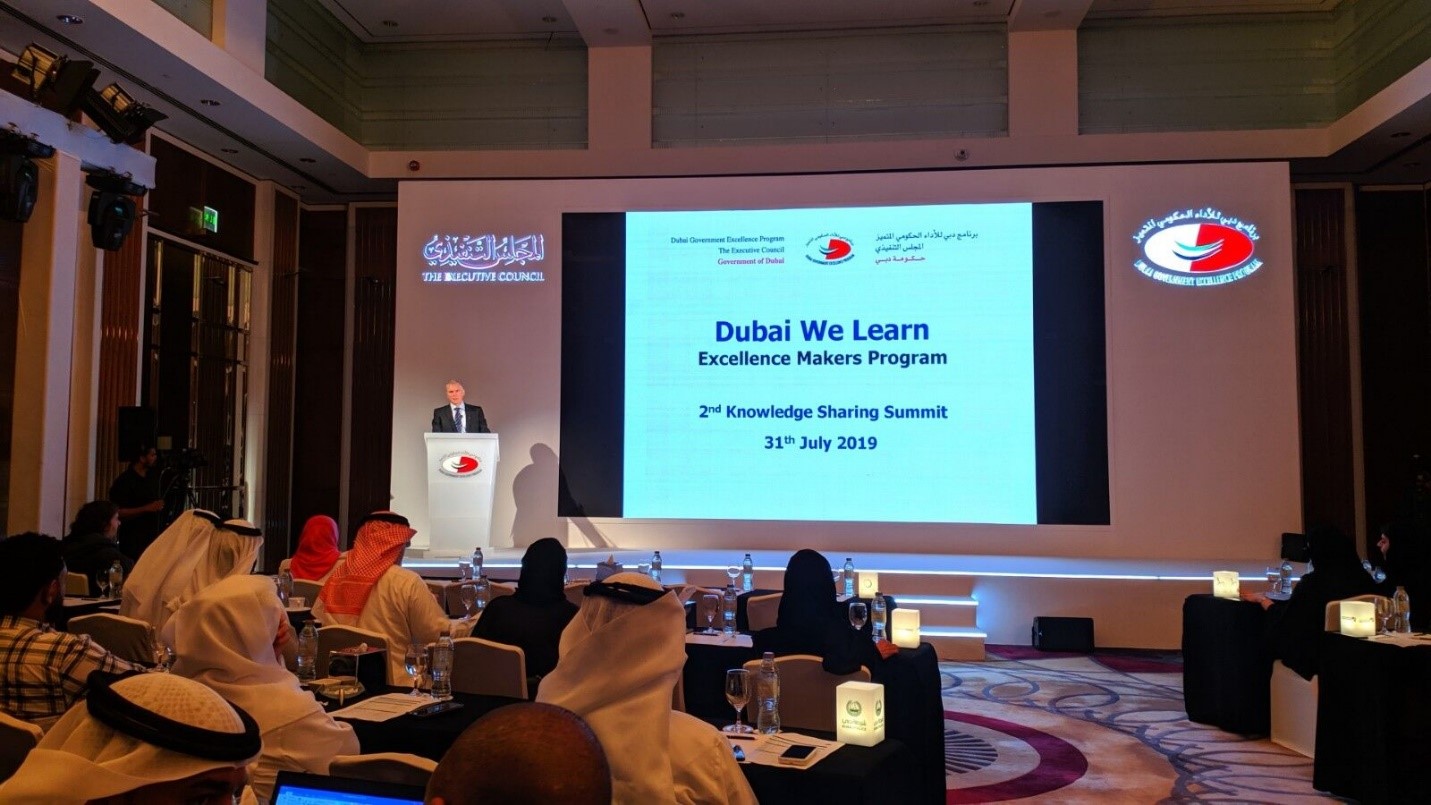 Dr. Robin Mann – Director, COER, enlightening the teams on the future course of Dubai We Learn 2019
In the earliest hour of the 31 July '19 Summit before the team presentations, Dr. Robin Mann – Director, COER, emphatically laid out the pertinent highlights with respect to the present & future direction of the 11 projects:
1. After the last Summit in April 2019, the Advanced Skills Research Workshop that was conducted by Mr. Ahmed Abbas from BPIR.com, COER was found to be extremely advantageous by the teams
2. Successful visits to the various government entities had been undertaken over the past week before the current Summit, where appropriate feedback and suggestions were provided to realign the direction and quality of the projects.
3. Continuous feedback on the latest TRADE Spreadsheets & Progress Record will be given by COER in the upcoming weeks.
4. The significance and importance of the research undertaken through the Best Practice Search Forms provided by COER was stressed upon
5. All teams were making good to excellent progress; most teams have completed their Terms of Reference (TOR) & Review Stages of the TRADE methodology, while some teams are yet to assess the current and future performances
6. It was emphasized that it is vital to lay down good project performance measures in order to achieve 7-Star excellence outcomes
7. Most projects are on the Acquire stage with the expectation that it will be completed by most teams around October 2019 when the next viz., 3rd Knowledge Sharing Summit will be held
8. It is important that moving forward the government entities need to continue to involve the stakeholders and staff of the project to receive their important ideas and inputs
9. Teams should not wait for full completion of the Acquire stage if they see some quick wins that they can implement requiring little resource
10. In conclusion, the main purpose of the Summit was stated:
to provide a platform to enable project teams to showcase their work to their sponsors and key stakeholders,
to encourage collaboration and best practices sharing,
to promote learning between project teams, and of course, make new friends along the way!
The Summit saw the spectacular Team presentations, where all the eleven teams displayed vitality and vigorous execution of their plans so far. The qualities that seemed to be sweeping across the teams were: honesty of their intent to make a positive difference, and genuineness in their careful efforts to integrate their goals.

Watch video highlights of the day
During the team presentations, the five core elements that were predominant across all the eleven DGEP projects were:
Troubleshooting, i.e., targeting problem area/s.
Fine-tuning, i.e., aim to improve the processes and systems with advanced levels of operations, benefiting the daily functioning of government.
Radicalization, i.e., innovation & creativity driven, technologically advanced
Future-ready, i.e., futuristic approach, with an eye for detail relevant to the current and future state of affairs.
People-centric, i.e., sensitive to the limitations, capabilities and requirements of the end-users – the government officials and general population.
Dr. Ashraf Mahate, Chief Economist – Trade and Export Market Development, Dubai Exports, encapsulated his views as
"
Dubai We Learn is a real eye opener as it allows us to see how other Dubai Government Departments are using the TRADE Benchmarking Methodology. In particular, we are interested to see how different problems or challenges are tackled and the corresponding results. We found the session to be highly informative, especially the presentations which were packed with a lot of detail in a short space of time. We are highly inspired by the innovation and productivity improvements that can be made through benchmarking. As a direct result of the Dubai We Learn session, we are now planning to visit some of the relevant departments. In this way we hope that our entire team will benefit from it.
"
A collage of photos from the 2nd Knowledge Sharing Summit
Following are the 11 Government of Dubai entities and their project initiatives:
1
Dubai Health Authority


Dubai Heart SafeCity


Project Aim: Make Dubai the "Heart Safest City'' in the world byimproving the out-of-hospital post-Sudden Cardiac Arrest (SCA) survivalrate.
2
Dubai Corporation for Ambulance Services


Moonshot: Is WhereMagic Happens


Project Aim: Develop a vibrant Moonshot innovation ecosystem, culture and practices to further their readiness for the future.
3
Dubai SME (Agency of Department of Economic Development)


Improving Entrepreneur's Business Guidance & Start Up Services


Project Aim: To improve the process of qualifying and supporting entrepreneurs to start viable businesses
4
Community Development Authority


Enabling Happiness


Project Aim: Identify and implement best practices in implementing transforming projects & initiatives that engage, empower, and enlighten employees leading to elevated levels of employee happiness, loyalty, motivation, communication, innovation and productivity.
5
Dubai Police


Airport Secure Luggage (Safe Bags)


Project Aim: Find and implement best practices in airport baggage security in order to enhance efficiency and operational capacity of the inspection process at Dubai International Airport and Dubai World Central by EXPO 2020.
After the first session of the Summit while I was in an engaging conversation with Maha Al Suwaidi, Project Manager, Dubai Government Excellence Program, she said,
"
The presentations have been very interesting. Most important is that the teams have to measure the impact after implementing their projects. We are encouraging these projects to not only focus on incremental improvements but also reflect global trends within their projects, for example, to consider artificial intelligence as a best practice. It is a leading initiative that DGEP launched because it helps to sustain and reinforce the competitiveness of Dubai as a knowledge sharing hub in the public administrative field. Dubai We Learn will help develop government employees' capabilities using best practices tools such as TRADE.
"
6
Dubai Municipality


Digital Transformation of Contracts


Project Aim: Accelerate the processes of service contracts completion period from an average of 120 days to 45 days in 2019.
7

Roads & Transport Authority




Return on Innovation for Agile Innovation Journey


Project Aim: To develop a simple and reliable approach for measuring and communicating Return on Innovation (ROI) that is aligned to RTA's strategic needs to culminate in an Agile Innovation Journey


P.S.

On 29 July 19, while exiting the gates of RTA's incredible Enterprise Command Control Centre (ECCC) after a team meeting, I told myself, "Ok! So, did I just visit the NASA of roads and transport operations?
I believe I did!"
8
General Directorate of Residency & Foreigners Affairs


Cooperative Integration System


Project Aim: Identify and implement best methods and practices that will lead to an affective integrated system between GDRFA's Strategy, Innovation, PMO, Operations and Excellence departments.
9
Dubai Electricity & Water Authority


EV Green Charger 2.0


Project Aim: Develop human centric EV charging station, which supports a seamless customer experience.
10

The Executive Council




Corporate Agility


Project Aim: Identify and implement best practices in agile project management to enable a sustainable culture of fast and more efficient project management within TEC.
11

Dubai Land




Smart Property Valuation


Project Aim: Provide an instant, reliable and robust unit valuation service.
While in the middle of a stirring dialogue with Dr. Ayesha Al Mutawa, Director Strategy & Excellence at the Dubai Corporation for Ambulance Services (DCAS), she articulated her experience with enthusiasm and optimism
"
This is exactly what we want! There is learning, knowledge transformation, exposure to others, and understanding of how they get things done in a better way. It's a great initiative by DGEP. This is not only best practices exploration, it is best practice in exploring best practices, and this is what makes it very unique in nature. The amount of coaching, consultation, and audit resources is amazing. It keeps us motivated through opportunities for change and improvement. Our audacious DCAS project is to create a moonshot shift in the way we run innovation – from culture, to systems, to behavior, to future thinking. And engagement with DWL can help us go through this safely because it is a very well-organized process.
When asked how will the DWL put Dubai on the world map in the field of innovation and business excellence, this is what she had to say,

I think one of the things that DWL needs to do is a registry of projects, like a Report Book, and follow up every year to two years on whether they continue to be sustainable and whether they became part of the organisation, and how much innovation resulted from engaging with it. DWL itself can be a source of information for the Government of Dubai around innovations.
"
Dr Ayesha's presentation on DCAS' Innovation Project was one of the highlights of the day. A copy of her presentation can be found by clicking here and is well worth reviewing. Not only does it show the progress being made by the DCAS team but it also shows a best practice in terms of presentation slide design!
Dr Ayesha, Director Strategy & Corporate Excellence, DCAS, presents DCAS' Innovation Project "Moonshot: is where magic happens"
The cross-team formation and discussion session nearing the concluding part of the Summit saw the bartering of ideas between the teams. Each team was given a yielding task – to describe the one thing that each of the 11 teams has done exceptionally well, any common opportunities for improvement, one potential challenge or difficulty that each team may face, and (if so) how could these be addressed? The teams shared their expertise and experience in the most lucid and transparent manner.
Teams discussing the various presentations
Although AI is a sign of human advancement, it can never replace human conscience. And the beauty of human conscience is that it can alone shape the character of governments. Sir Abraham Lincoln had once insightfully quoted, "The philosophy of the school room in one generation will be the philosophy of government in the next." And in this case, Dubai edification has most definitely produced the wisest leaders – the government office bearers of today, who are inspiring the future torchbearers to lead a responsible-benevolent public administration.
I, personally, and on behalf of Dr. Robin Mann, Mr. Ahmed Abbas, the COER team members and all the 12 Researchers who have contributed to the 11 DGEP projects, wish all the 'Dubai We Learn' initiatives all the very best!
… Stay tuned with Dubai We Learn Blogs @BPIR.com Limited for updates from the 3rd and Final Knowledge Sharing Summits that will be held in October 2019 and December 2019 respectively.
To view more photos from the event click here
For more information on Dubai We Learn contact:
Dr. Zeyad Mohammad El Kahlout, Senior Quality and Excellence Advisor, Dubai Government Excellence Program (DGEP). Email: Zeyad.ElKahlout@tec.gov.ae
---
Receive Our Newsletter
Keep informed on best practice research and business improvement events from around
the globe - be the first to read our Best Practice Reports
---