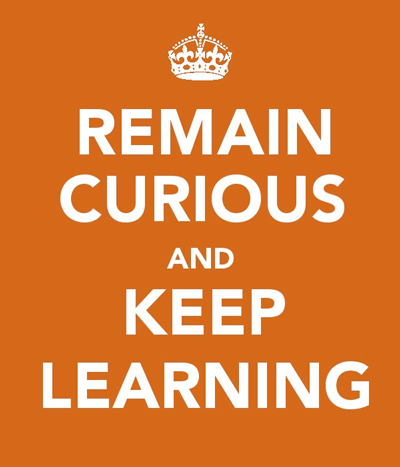 Originally posted by Harry Hertz on Blogrige
I recently read a blog post by Mary Jo Asmus entitled "
8 Unexpected Ways to Continue to Develop Yourself as a Leader.
" Some ways were more obvious (to me) than others and I will quickly summarize all of them below. However, my main takeaway was to reflect on how I continue to learn. And I would assert that my approach is not limited to leaders, but can help all of us continue to learn.
Let me start with a summary from the referenced blog; the items are in the order presented:
Build relationships with your peers; they can help you be more successful
Develop your direct reports; they also can help you be more successful
Demonstrate you are ready to take on the next level of leadership
Leverage your strengths and address your gaps
Get above the weeds and become more visionary
Use a new hobby to stimulate your brain
Focus on your health so you function at your best
Show concern for your colleagues
The Baldrige Criteria for Performance Excellence consider workforce learning and development to be key aspects of Workforce Engagement (Item 5.2). The organization has a responsibility to consider the learning and development desires of workforce members [5.2b(1)] and to manage career development and progression of workforce members [5.2b(3)]. As individuals, we also are responsible for our learning and development; we need to recognize the benefits we gain from life-long learning. With that personal responsibility in mind, here are my eight approaches to ongoing learning. They are listed roughly in order, from the obvious to the less obvious:
Take stock. Do a self-assessment of your current strengths and opportunities for improvement (to use Baldrige terminology). Seek 360° feedback as input to your self-assessment.
Seek appropriate training opportunities and read relevant journals, social media posts, and books. This requires that you consider where you want to further develop your skills and capabilities, an important prerequisite for all of us.
Be an active listener. You can learn a lot by listening to other points of view and learning from others knowledge. Sometimes a single word I hear will trigger a whole range of different thoughts for me, thoughts about good alternatives to my approach or thoughts about something I would like to explore further for my own education.
Use humor. It makes you more human and helps everyone relax. When people are relaxed, I have found that ideas flow.
Complement you strengths. Don't surround yourself with people just like you. Choose people who complement your strengths. It will yield better organizational output and you can learn from those colleagues on an on-going basis.
Learn from role models and anti-role models. I have had great bosses who really knew how to lead and also a few bosses who didn't lead well (in my opinion). I have made a practice of studying the key characteristics of both type of bosses and have used the characteristics to build my capabilities.
Create think time. I deliberately set aside time to reflect and think with no other distractions. Sometimes I have a problem or goal for that think time; other times, I just wander around my brain till a topic interests me. For years my think time was the time I spent on my garden tractor mowing my lawn. More recently, I have the luxury of allowing myself more set-aside time.
Pick up the trash. I have always felt that nobody is too good or too important to pick up the trash. As Director of the Baldrige Program, I made a practice of being part of the trash collection crew at the end of each day of Baldrige examiner training. It leads to great informal conversation with colleagues. And as a leader, it shows that you are just another valued staff member.
How do you continue to learn? Please let me know!
---
Receive Our Newsletter
Keep informed on best practice research and business improvement events from around
the globe - be the first to read our Best Practice Reports
---