Over the next 2 weeks, 10 project teams representing 10 government entities will have started the 3rd Cycle of Dubai We Learn Excellence Maker's Projects. These projects will help the government entities make dramatic and breakthrough improvements in their processes and systems through learning from best practices.
The government entities represented in this round are DEWA, Dubai Land, Dubai Health Authority, GDRFA, Community Development Authority, RTA, Dubai Police, DCAS, Dubai Municipality and The Executive Council.
1st batch of project teams being trained on TRADE Best Practice Benchmarking
All teams will be aspiring to follow in the footsteps of previous Dubai We Learn projects. Of the 24 previous projects all have made significant contributions to their organizations and stakeholders and many of these have become role model projects winning international awards for the best practices implemented.
To learn more of the previous projects you can read our book on the 1st Cycle of Dubai We Learn here and shortly you will be able to read our book on the 2nd Cycle of Dubai We Learn showcasing 11 more projects (to be published by May 2019). For a taster we have provided a summary of one of the projects below. This was a 7-star project by Dubai Government Human Resources Department.
In our next blog we will outline details of this year's projects and what they hope to achieve.
Dubai Government Human Resources Department's 7 Star Project from the 2nd Cycle of Dubai We Learn
DGHR, similar to all Dubai We Learn teams, used the TRADE Best Practice Benchmarking Methodology to search for and implement leading-edge practices.
Terms of Reference – plan the project
The aim of the project was to launch a Dubai Government Human Resources Think Tank for future shaping, research driven decision making and pioneering HR's role for Dubai Government. It was decided within the one-year time frame of Dubai We Learn to prepare a comprehensive Blueprint for setting up a DGHR Think Tank specifying potential services, roles and responsibilities, organization structure, and required resources.
DGHR Team Awarded 7 Stars for TRADE Benchmarking Proficiency
Review current state
The DGHR benchmarking team began by conducted a brainstorming session and undertaking a fishbone analysis, SWOT analysis and a more complex TOWS analysis. These were conducted in tandem with other activities to gain the viewpoint of other stakeholders, these included:
Focus group interviews with DGHR's staff to gather their feedback about the areas that DGHR needs to work on and how a Think Tank can improve the current situation through research and studies.
A brainstorming workshop for Directors and Heads of Sections of Dubai Government entities. Their input as primary customers of DGHR was critical.
A survey of HR staff within Dubai Government to obtain their views.
Exhaustive desktop research to understand leading practices, core services, operating models, challenges and opportunities of Think Tanks.
Analogous simulation was used to explore potential services for DGHR.
DGHR team conducting a brainstorming session to discuss the proposed project
Acquire best practices
The team selected almost 102 Think Tanks from which to shortlist potential benchmarking partners. Using the criteria for shortlisting, the team assigned a numerical value for each criterion and evaluated all the Think Tanks. A cut-off score to select potential partners was determined and 25 local and international Think Tanks met the cut-off score. The team considered international site visits in three geographical locations – Europe, US and Asia. The DGHR benchmarking team received good responses from US-based Think Tanks and they selected six international Think Tanks for site visits.
Before the site visits, the team identified a detailed list of questions to be asked in the chosen areas of focus. The collection of data started with visits to local Think Tanks (July-October 2017) and followed by visits to international Think Tanks (December 2017). A total of 9 Think Tanks (3 local and 6 international) were visited and 63 ideas/practices were collected. The Think Tanks visited were The RBL Group (US), RAND Corporation (US), Society for Human Resource Management (US), Brookings (US), United States Office of Personnel Management (US), Inter-American Development Bank (US), Delma (UAE). In addition, a virtual visit via video conferencing was carried out with Bersin (US).
DGHR team visiting Society for Human Resource Management (US)
DGHR team visiting RAND Corporation (US)
Deploy – communicate and implement best practices
The benchmarking team prepared a detailed report for the Director General including a list of all ideas to be implemented. Following a meeting where support from senior management was reiterated, it was agreed that improvement ideas will be implemented in a 5-phase approach.
The team decided to implement Phase 1 (Arrival) in 2018 to focus primarily on current projects. Upon approval, findings of the benchmarking exercise were shared with DGHR staff and Dubai Government entities at the HR Multaqa gathering. The gathering served as a follow-up to initial workshops held in August 2017.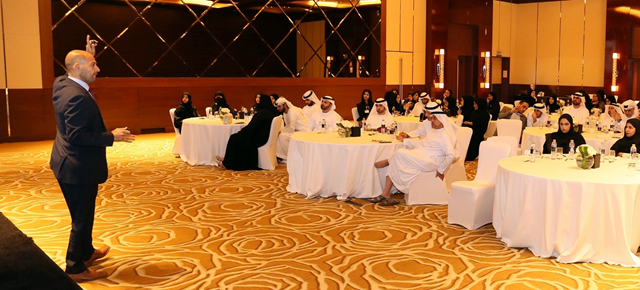 DGHR organised a HR gathering (HR Multaqa)
The DGHR team subsequently signed MoUs with the following strategic partners – RAND Corporation (partnering for policy making expertise), SHRM (partnering for HR specific expertise), US Office of Personnel (partnering for Government specific expertise specially as a governing body of HR), Emirates University (for academic access) and B'huth (for Dubai based data and local reach). The DGHR team's final version of the Blueprint, a 73-page document, was presented to the Director General who thereafter gave formal approval. The approved Blueprint specified the mission, vision, strategy and business case for the planned Think Tank. Finally, there was a press release announcing the launch of the DGHR Think Tank.
Evaluate the benchmarking process and outcomes
The most important measure of success was the widespread stakeholder agreement to a Blueprint for a Dubai Government Think Tank to shape the future of HR within Dubai. The vision of the Think Tank has been initially set as "Pioneering HR for the world" with three prime services; research, smart library and consulting services. Expected future benefits include setting standards of superior HR services through bridging gaps between academic knowledge and practical implementation, translating the vision of a pioneering Government as per Dubai Plan 2021 and improving Dubai's 45th position in the Human Capital Index. The Think Tank is expected to save about AED 6 million per year on outsourcing of research to support DGHR's policies and programs as well as approximately AED 5 million per year for Dubai Government entities on outsourcing/consulting where the entities lack HR expertise to implement different initiatives. The Think Tank is expected to save up to AED 4,206,007 per year through improving the productivity of Dubai Government employees using various efficiency and effectiveness tools (current productivity index = 2.1 hours, targeted productivity index = 3 hours) with the potential to achieve a total return on investment of 100's of millions AED through providing leading edge research and initiatives that drive employee engagement and innovation.
To find out more about Dubai We Learn contact:
Dr. Zeyad Mohammad El Kahlout, Senior Quality and Excellence Advisor, Dubai Government Excellence Program (DGEP). Email: Zeyad.ElKahlout@tec.gov.ae or Dr Robin Mann, Director, Centre for Organisational Excellence Research (COER). Email r.s.mann@massey.ac.nz.
Detailed reports and videos on Dubai We Learn projects can be accessed from the member's area of the BPIR.com.
---
Receive Our Newsletter
Keep informed on best practice research and business improvement events from around
the globe - be the first to read our Best Practice Reports
---