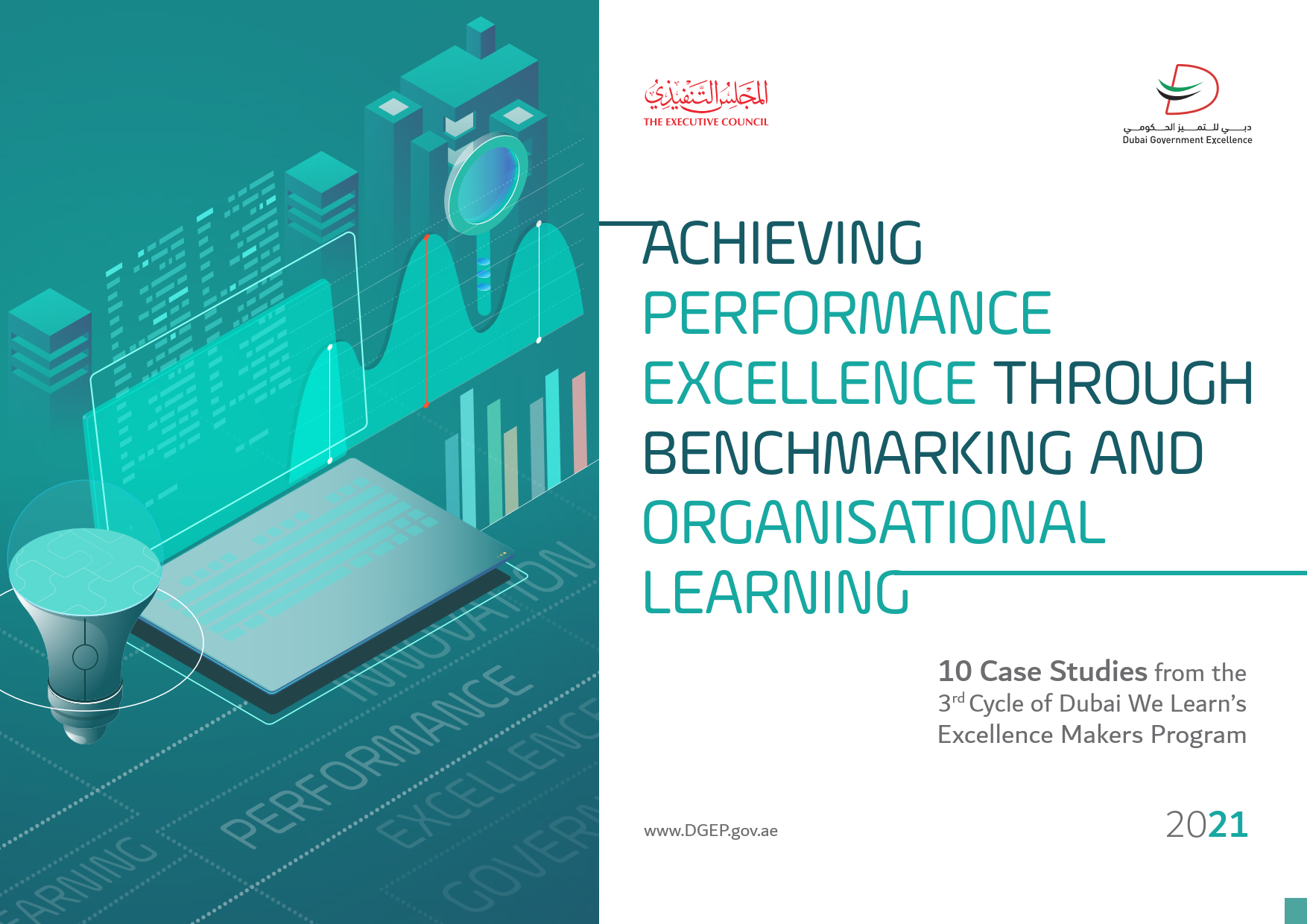 The book Achieving Performance Excellence Through Benchmarking and Organisational Learning is a joint publication by the Dubai Government Excellence Program and the Centre for Organisational Excellence Research (COER). The book describes 10 TRADE Best Practice Benchmarking projects that were undertaken as part of DGEP's 3rd Cycle of Dubai We Learn.
The book with its narrative on each project and relevant figures and photographs provides a rich source of evidence-based performance improvement stories. The case studies have been rigorously documented showing how each project progressed through the five stages of TRADE. The name of "TRADE" symbolises the importance of forming benchmarking partnerships with the intent of "trading information and knowledge" between organisations. Benchmarking should not be seen as a one-way exchange of information. It should be mutually beneficial so that relationships can be maintained and grow so that the partners can learn from each other again when the need arises.
The government entities that participated and the key achievements from each project are summarized below:
GOVERNMENT ENTITIES
PROJECT TITLE
KEY ACHIEVEMENTS OF THE DUBAI WE LEARN PROJECTS
Community Development Authority
Enabling Happiness
32 Quick Wins to transform highly disengaged CDA employees to a happier workforce. 0% happiness initiatives (2018) to 85% staff engagement (2019) in the various programs.
Dubai Corporation for Ambulance Services
Moonshot: Is Where the Magic Happens
The development and sign off of a Blueprint for a Moonshot Innovation Ecosystem by DCAS' senior executives with key components implemented (innovation strategy/charter, organisational structure, ideas management process, innovation shaping tool and leadership engagement) with full maturity expected by Dec 2021.
Dubai Electricity and Water Authority
EV Green Charger 2.0
DEWA is taking the lead in developing a unified cable system, creating a niche in the international market in EV adoption, branding DEWA as a pioneer within the UAE and GCC in designing of a customised EV fast charger with smart solutions.
Dubai Health Authority
Dubai Heart Safe City
Development and initial deployment of a Short-term Roadmap (2019-20) and Long-term Roadmap (2021-25) with an expectation that when fully deployed approx. 800 lives per annum will be saved through achieving a 65% or greater survival rate from Out-of-hospital Cardiac Arrest.
Dubai Land Department
Smart Property Valuation
The smart property valuation system is the first in the international real estate market. The development of a predictive model based on Artificial Intelligence and Machine Learning will generate a valuation certificate in 15 secs instead of 3 days.
Dubai Municipality
Digital Transformation of Contracts
A complete reengineering and 100% digitization of the service contract cycle, resulting in a reduced contract completion time from an average of 210 days (2018) to 24 days (December 2019), enabling 380 contracts to be completed in 2019 from 97 in 2018.
Dubai Police HQ
Airport Secure Luggage (Safe Bags)
The project saved the airline companies approx. AED 67 million (and projected to be in excess of AED 100 million per year in future) based on the reduction in the number of passengers being summoned for security inspections due to improvements in identifying safe checked-in bags and improved procedures.
Dubai Small
and Medium Enterprises
Improving Entrepreneurs' start-up guidance and support services
The guidance service process cycle time to complete an application reduced from 4.25 days to 1 day saving employee and customer time equivalent to AED 10,300,000 up to June 2020. Employee satisfaction with the new process increased from 30% to 88%.
General Directorate of Residency and Foreigners Affairs
Cooperative Integrated System
Integration of the departments of Strategy, Innovation, PMO, Operations, and Excellence under the Sector of Quality and Excellence and the development of a CIS Master Plan for full implementation in 2020 with performance measures in place.
Roads and Transport Authority
Return on Innovation for Agile Innovation Journey
RTA is the first to develop within Dubai Government a systematic tool to measure non-financial ROI – applicable to any private or governmental organization.
Some of the comments on the value of the TRADE methodology were:
The TRADE methodology is a very logical structured approach to enable project teams to conduct benchmarking using evidence-based tools. The completion of each of the five stages of TRADE is critical to the success of project outcomes. (DCAS)
The TRADE methodology is a useful tool for capturing issues and impacts. The methodology enables the project team to better define benchmarking requirements and outcomes. (DEWA)
Benchmarking team members need to be very structured and the TRADE sheet helps a lot in this area through framing tasks and actions. The TRADE sheet and accompanying documents need to be updated regularly to reflect progress, achievements, and to make sure all members are still aligned to the aim and scope. (DHA)
The TRADE methodology, resources and templates guided the team to complete the benchmarking project. For example, each stage had a plan on how to complete the stage with essential information such as the assignment of the task, planned start date, the actual one, and the outcomes from each stage. Also, provided were templates on how to communicate with benchmarking partners and seek their help with thank you letters too; shows how professional the methodology is! (Dubai Municipality)
The benchmarking methodology has been very effective in allowing us to ask ourselves the right questions at different stages of the methodology. We have achieved the required improvements without investments in purchasing additional tools or equipment, building new infrastructure, or hiring more technicians. We utilized existing resources. (Dubai Police)
We found the TRADE methodology and structure so useful, therefore; we initiated the same to improve another service in Dubai SME (Government Procurement Program). (Dubai SME)
TRADE has served as a great tool even when we were new to TRADE. It allowed us to be more efficient and flexible in executing the project and communication as it avoided the use of unnecessary tools. TRADE has captured all the needed information in one document. RTA has adopted the TRADE methodology as the reference tool to conduct and implement its benchmarking process for all projects, initiatives, and performance indicators. (RTA)
For more information on the book or on TRADE, please contact Dr. Robin Mann, Director, COER, R.S.Mann@massey.ac.nz
---
Receive Our Newsletter
Keep informed on best practice research and business improvement events from around
the globe - be the first to read our Best Practice Reports
---
Share
LinkedIn Facebook Twitter
Posted by:
BPIR.com
Author:
Dr. Almas Tazein
Source :
-
BPIR Category :
14.3.4 Conduct a business excellence assessment.
14.2.4 Conduct best practice/ process benchmarking
14.1.1 Design & deploy performance measurement system
15.2.3 Product performance e.g. quality/delivery/value
15.2.4 Service performance e.g. quality/delivery/value
14.3.1 Create commitment for improvement
14.3.2 Implement an improvement approach/method/technique
14.3.3 Implement an org-wide continuous improvemnt program
15.6.15 Continuous improvement & general measures

Latest News Categories:
Benchmarking, Best practices, Business Excellence, Dubai We Learn, Innovation, Latest News, Quality Management